As some of you know, I quit my job recently. I started there as a senior developer 6 years ago, and left as CTO, with stops along the way as Director of Technology and VP of Technology. Now I find myself faced with a choice. Do I try to find another CTO gig, or go back to my roots in development?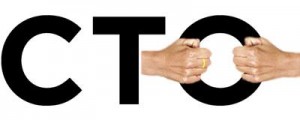 As a CTO, I didn't write nearly as much code in the past year and a half as I had the years prior. In fact, I felt so rusty that I spent my Christmas vacation away from work writing a new FOSS IT Asset Management system (called Snipe IT, available on GitHub, if you need such a thing) just to get my hands dirty with some code again. Much to my relief, most of it came back to me quickly, despite the fact that  I was using a framework I'd never used before. In a week and a half, I had a working alpha that people in the community were using and contributing to. It felt great.
While a CTO doesn't always have to write much code, the CTO of a smaller company (without lots of middle-managers) needs to be close enough to the code to know how to guide and mentor their team, and make smart deployment and technology decisions.
I love a lot about both roles. I love the in-the-weeds problem-solving and feeling of accomplishment that comes with being a developer. I love looking at something I worked on, watching people interact with it and enjoy it, and know "I helped make that! I wrote that code!".
On the other hand, I really enjoy solving higher level problems as well. Architecture problems, technical strategy challenges, finding the right technology to get the job done. Hell, I even like risk-management. And I enjoy managing people, and finding the right mix of talent to build amazing teams that love working with each other.
But really, let's put all of that aside for a moment, as there's something else chewing at the back of my head. If I step down from CTO for a dev gig I really love, does that make me a failure? Will the perception be that I couldn't hack it? That I wasn't good at it? Or that I couldn't handle the stress/responsibility?
I feel this might be complicated by a sense of obligation I feel towards women in my field. Some women look up to me, because not only did I make it in tech, I wrote books on development, I speak at conferences and eventually became a CTO – arguably the brass ring of technology positions. The media wets their pants to interview me because I'm the unicorn they didn't think existed. (Newsflash: we do. Not that many of us, but we're definitely out there.)
And I think that's the problem, this notion that the CTO position is the brass ring we should all be striving as technologists and once we reach it, we've "made it". Maybe it is the brass ring, and maybe it isn't. But maybe I've been blindly climbing towards the top because it's what I was raised to believe it's what people are supposed to do.  In fact, when I first made CTO, I was so thrilled, and then realized that I had nothing left to work towards, and it felt weirdly empty. I had been working towards this my whole career, and now that I had it, I wasn't sure what came next.
I realized this a while ago. It's why I wanted my Real Women of STEM project to feature women of all roles in STEM. The execs get all the media love, but applications aren't written by CTOs and servers aren't managed by CIOs. I would much rather work with a junior developer that loves the shit out of their job than a CTO who wants to be doing something else or had settled so comfortably into the executive role that they are out of touch with their team and the technology.
In discussing this with a few colleagues, many of them have said, "Once you reach the C-suite, you really have to stay there." I interpreted that to mean that it would be difficult to go from CTO to dev and then back to CTO, as assumptions are made about why you left CTO in the first place. This has proven true for some colleagues, not for all, but in general I agreed with this notion at the time, and decided I would only look for CTO jobs in my job hunt.
And then I realized that was the dumbest decision I've made in a long time.  Who cares what my title is? I'm 38 years old, with almost 20 years in this industry. Who am I trying to prove anything to? The only thing that matters is whether or not I love what I'm doing, whether that means going back to a junior developer position, or becoming a CTO again.
The work is what matters. Loving the hell out what you're going to spend at least 8 hours a day doing matters. The title on the business card just doesn't matter. I can't believe how much I used to think it did, but it just doesn't. If you're making the money you need to make and you love the work, don't sweat the title.  Be awesome, help your tech community, and do great work.
If I end up in a dev/devops role, will it make it harder for me to get another CTO gig down the line? I have no idea. And I don't care. I want a job I love, doing work I love for a company that values me.
For the women I was afraid of disappointing by potentially not being the brass-ring-holding tech executive role model, I will say this: The very best way I can be a role model to you is by pursuing my own happiness and encouraging you to do the same.  You won't find happiness in a title, and you can end up wasting a lot of your career believing that you can.
There is no shame in being "just" a developer (or sysadmin/ops, etc) – in fact, there is no "just" a developer at all. That mindset is toxic and you should put as much distance between it and you as you can.
I loved being a CTO. And I loved being a dev. I don't think I could choose which I love more, as there are parts of each that are important to me and that I don't get with the other.  But I'm finally in a place in my head where I wouldn't feel like a disappointment if I stepped out of the C-suite for a position I really loved.  I beat myself up over enough things. This isn't going to be one of them anymore.
I don't know where I'll end up. I don't know if I'll return to my dev roots, or wind up the CTO of a different company, but I'm finally in the right headspace where it's the job, not the title, that really matters to me.
PS – Speaking of speaking, I'll be speaking at Macworld/MacIT in March this year, and keynoting Lonestar PHP in April. Come by and say hello!